Wer hätte das gedacht? Dass mir das passieren wird? Die ersten reifen Früchte meines Feldes sind die von mir nicht unbedingt geschätzten GURKEN! Und das nicht zu knapp! Was mache ich mit diesen Unmengen an Gurken?
Naja, nicht ganz die ersten Früchte, zumal ich bereits Spinat und Rucola geerntet habe, die Erbsen auch schon ihre Hülsen mit noch kleinen Bohnen entwickelt haben und der Jungzwiebel erntereif ist. Die verschiedenen Kürbispflanzen wuchern zwar grün, aber noch haben sie keine Blüten entwickelt, während die Tomaten wie verrückt blühen, aber noch immer keine Frucht entwickelt haben. Immerhin blühen sie schon seit zwei Wochen. Aber vielleicht braucht auch in der Natur gut Ding Weile.
Obwohl, i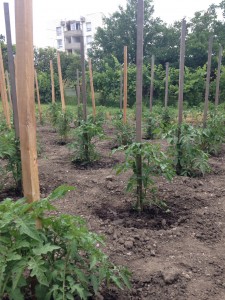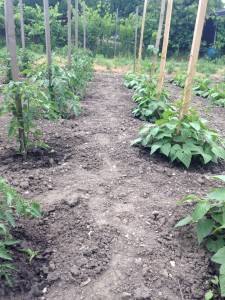 ch erhoffte mir sehr wohl, dass die nährstoffreiche Basis, bestehend aus zermahlenen Eierschalen, Gerstenmaische und Gemüserde später noch mit etwas Pferdemist angereichert sich positiv auf das Wachstumm der Pflanze und deren Blütenentwicklung auswirken mögen. Ich freue mich schon auf die erste Tomate aus dem Garten! Hier noch einige Photos vom Feld: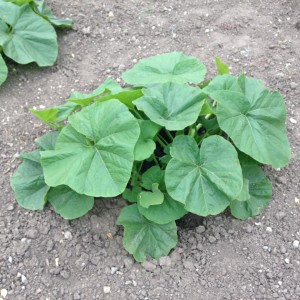 It is overwhelming to see that from a small little seed springs so much life, green leaves and lots of blossoms, wonderful plants and delicious fruit. it was a wonderful experience to see spinach growing on the field, to harvest it and serve on the same date on the plate:
Spinat gibt es schon einige Zeit keinen mehr, aber Ende der Woche möchte ich nochmals eine Tour anbauen. Spinat, Erbsen, Mangold und für Mama ein paar Gurken, nachdem die alten beiden Pflänzchen ihren Dienst geleistet haben und nun schon fast verdörrt sind.
Ich koche auch schon fleissig Paradeiser ein und wagte mich auch an eine köstliche Tomatenmarmelade. Echt köstlich – vielleicht ein bisschen süss, aber die nächste wird noch besser.