Leaving Granada where it´s raining cats and dogs. Considering that we have mid November I really cannot complain about the weather, as it was sunny most of the time, even warm and so I can forgive the weathergod if he once decides for a rainy day, am in the car most of the time anyway. For some reasons 280 km scheduled, turned out to be 400 km from Granada to my destination at km 79 between Tarifa and Cadiz. I had to encounter some delay, first because of limited competence of the trainee with Europcar and then because of the traffic.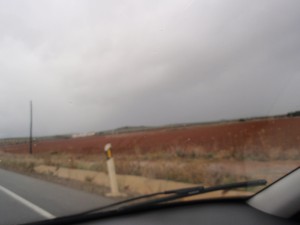 Driving through the countryside towards the West I was at first somewhat disappointed. The environment was rather modest, mildly said. Scattered rather ugly houses or barns or whatever they are, at times some factories, strange flora. The only thing worth mentioning is the colour of the earth. It is a brownish red of such an intensity, that it appears unreal. A similar colour I saw only in Moroco – and same like there it goes together with an unreal blue of the sky (which you couldn´t see on the pic as it was a cloudy day). This was really fascinating.
The environment didn´t stay like that all the time. It became much more appealing, once I entered Cadiz province. All the way one could see intense agricultural use. Some flieds were already empty, but huge watering devices were controlling the area with wings like huge eagles made of metal. Miles and miles of olive trees are growing all along the way.
My first destination was Zahara, a nice little WHITE village high up in the hills. It is only 500 m high, but it felt like 1.500. Strong winds made the weather change from warm and sunny to heavy rain wihtin minutes. As a result I was rewarded with some beautiful rainbows. Very motivated to do some walking, and the way was quite steep up the hill, I climbed up the hill, up to the fortification, or what was left over, so that I would merit the lunch which I planned to have at a local restaurant with a very nice panoramic view.
A very slow waiter, very complicated american tourists (actually, there are so many americans all around, almost like Japanese – and this was not a compliment) didn´t raise any hopes of a soon lunch, so I decided to head for my next destination – Grazalema, which is supposed to be the starting station into the natural park of the same name.
Wonderful landscape, narrow and semidamaged roads and nothing but nature. It took me quite a while to do the 14 km between the villages, but once I passed the top of the mountain and turned right, a wonderful scenario opened – the pittoresque village Grazalema amidst mountains and greens. Really kitsch, but adorable!
My appetite grew ever since Zahar so that I kept my walk through Grazalema rather limited this time and entered a restaurant close to the parking. But what could I see – a Michelin Guide recommanded restaurant! I was afraid of the prices, but in vain – a soup, main dish, two glasses of wine and a big bottle of water made – guess?….. EUR 21!!! The restaurant was fit out in local design, had two large rooms, very clean and propper toiletts! And a waiter who at least understood English. This fact however did not prevent a small mistake – a wrong translation in the menue made him bring me something completely different from what I (thought I) ordered. Without a single hesitation he changed the meal and brought the "english" variant of my order. As a starter I had a Picadillo-soup which is a simple milky soup with crispy bred, ham and boiled eggs. At first I was somewhat puzzled by it´s look, but at the end it tasted wonderful! As main course I had a puree of eggplants with roquefort cheese and iberian ham. There were also some shrimps, but that was already too much. It was so tasty, i have no words to explain. Who would have expected such a delicious lunch at such a distant place? Should you ever visit Grazalema, you MUST stop at CADIZ el Chico!
By far off the time track I headed for Ronda – at least to have a brief look. I´d like to mention here that the signalisation and organisation in Spain is that professional and clear, that I could find my way witout any GPS, but used a simple tourist map. But I would like to come back to that topic later on. During the first km walking through the city center I was already tempted to turn around, feeling disappointed about this rather peculiar proletarian charme. Still, I had the pictures in mind I spotted in my guide and kept on walking. And this was a good decision. When I reached the end of the pedestrian zone, behind the bullfighting arena a scene of outstanding effect opened! The city suddenly ended at the brim of a steep rock, which soared like pillars and seemed to underpin the city. A stone bridge links two sides of the city, which were built on different rocks. Simply fascinating – just look at the pictures.
After buying some wine, cheese and sweets I headed of for Tarifa and chose the longer route to the seaside in order to avoid a long drive through the mountains. It was a good choice. I died a hundred times during the 45 km along steep rocks! I would have never had made it the long way of 122 km! At times I was so afraid, that i decalerated down to 30 km/h, much to the discomfort of people driving behind me.